If you haven't already been bombarded with ads for CBD lotions, oils, and other products, get ready. The precious substance is said to relieve pain, prevent seizures, lower anxiety, and improve sleep. Is CBD really the wonder drug its advocates claim it is? Is it safe? And is it even legal?
What is CBD, exactly?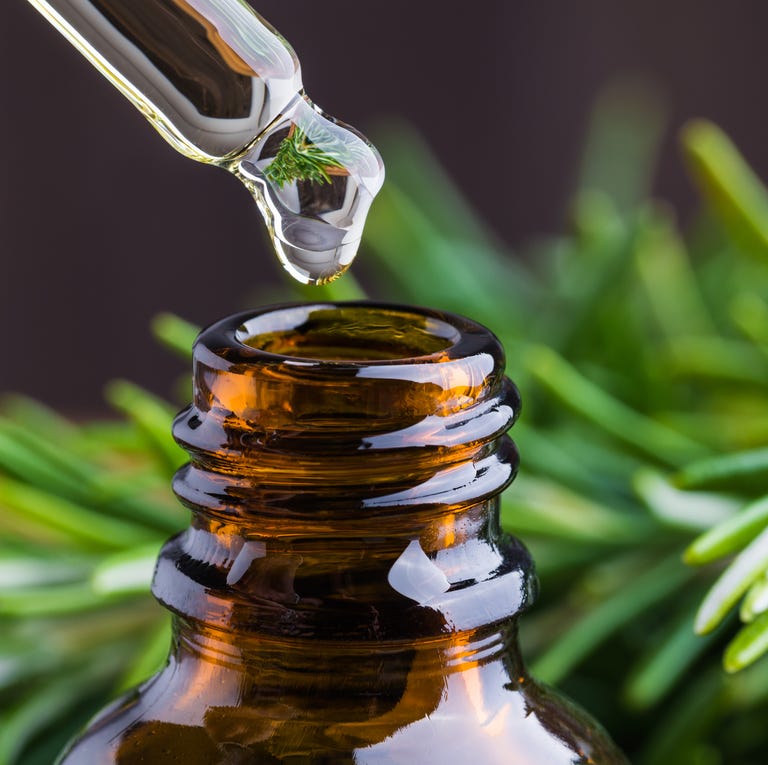 "CBD is the common abbreviation for cannabidiol, one of over 100 so-called 'phytocannabinoid' chemicals found in the cannabis sativa plant," says Sara Jane Ward, Ph.D., assistant professor of pharmacology at the Lewis Katz School of Medicine at Temple University. Yes, cannabis as in marijuana or hemp — but CBD won't leave you stoned on the sofa and staring into oblivion. CBD is a different phytocannabinoid from THC, which is responsible for the classic effects of marijuana, says Ward, such as the high and the voracious appetite.
So, what does CBD do to the body?
"We're still working on understanding all of CBD's mechanisms," says Marcel O. Bonn-Miller, Ph.D., adjunct assistant professor at the University of Pennsylvania Perelman School of Medicine. There's a lot that isn't known yet, but we do know that it impacts a number of receptors in the body and balances out the endocannabinoid system (ECS). Lesser known than other systems in the body (like cardiovascular or respiratory), the ECS is critical for eating, sleeping, relaxing, and protecting our bodies from harm.
Okay, what are the benefits? Will CBD help me lose weight, ease pain, or fall asleep?
While your neighbor or friend may swear it cured their menstrual cramps or migraines, there are very few rigorous clinical trials to show the true benefits of CBD. The best understood effects are that it may prevent seizures, lower anxiety, and decrease inflammation, says Ward. In fact, last year the FDA approved the first CBD pharmaceutical, Epidiolex, which treats certain forms of epilepsy. "Some people using CBD report that they're better able to fall asleep, but it's not clear whether this is related to decreased anxiety or pain," she adds. "There are also some studies in humans demonstrating that CBD can decrease psychosis and schizophrenia-like symptoms." Lab research on cells and animals shows CBD could potentially help protect the brain against injury, decrease muscle spasms, inhibit cancer cells, slow down the GI tract, and alleviate nausea and vomiting. "But more human work needs to be done to confirm these effects,"
What about side effects?
"They seem to be pretty minimal," says Bonn-Miller. Some effects observed in clinical trials, such as diarrhea or fatigue, appear to happen more when CBD is taken orally than topically, he notes. However, if the product you're using also contains THC — like many out there do — there may be more severe side effects. There is also the potential for CBD to interact with certain medications like blood thinners, IV antibiotics, and other drugs whose exact dosing is critical so it's important to chat with your doctor beforehand to make sure you're in the clear.
How much should I use, and how long does it take for CBD to take effect?
You've probably seen CBD advertised in topical creams, vaping fluid, ingestible oil, and even foods. "Because so few human studies have been done with CBD, and because it is taken by so many different methods and in different formulations, it's very hard to pin down the most effective doses and methods," says Ward. The effects from smoking or vaping are fairly immediate, but CBD could take a few hours to kick in when ingested orally. Even less is known about the effectiveness of topical products. If you're interested in a particular product, ask a real doctor who is familiar with CBD about the best way to use it.
Is CBD even legal?
It's complicated. CBD as Epidiolex is a Schedule 5 drug (meaning it's legal with a prescription), CBD extracted from cannabis is a Schedule 1 drug (so it's illegal on the federal level—heroin is in this same Schedule), and CBD derived from hemp is now unscheduled (so it's totally legal). "The problem is that it is impossible to tell whether a final product like CBD oil was made from hemp plants or not because the CBD structure is the same regardless of source," says Bonn-Miller. "Without regulation, you could buy a product that says it's hemp-derived, but it may not actually be. There is so much grey in this area that it's hard to see straight."
Hmmm. If I decide to buy CBD, what should I look for?
"The most important thing to consider when choosing a product is what it actually has in it," says Bonn-Miller. "CBD products aren't regulated by the Food and Drug Administration so anybody can put pretty much anything in their products without direct consequence." Many products are being found to contain contaminants or be mislabeled. You may want to consult a trusted physician or dispensary about legal and reputable sources of CBD in your state. It's a common refrain, but when in doubt, ask your doctor says Ward.